Last week
Mo
of Manic Monday suggested the word OFFICE for the prompt for his meme. I was going to do
my home office
until he suggested Obama and the Presidential Oath of Office. I blogged about the
Oath of Office.
because it was so appropriate for last week.
So today I'm going to show you
my home office
because there are a lot of
RED
things there.
Here's the collage I made: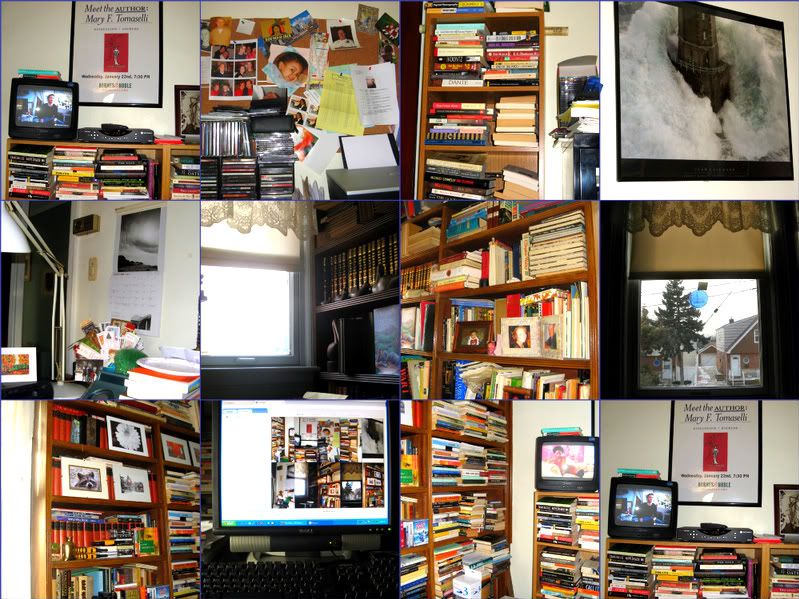 Click on the picture to embiggen.
My office has a lot of books. That's an understatement, eh? There are so many books I have to double shelve them, ones in front and in back. I also have a TV in my office and it's ON ALL THE TIME! It's background noise and keeps me company while I work.
Why don't you look around your office. Do you see a lot of
RED
? Why don't you post photos of your office for our
next
Ruby Tuesday.

Myspace Graphics

I'm in Florida for the next few days so I won't be able to visit you right away but I hope you'll leave a comment and sign Mr. Linky. When I get back I'll be around to visit! :)

theteach
I like nonsense, it wakes up the brain cells. Fantasy is a necessary ingredient in living, It's a way of looking at life through the wrong end of a telescope. Which is what I do, And that enables you to laugh at life's realities. -
Dr. Seuss