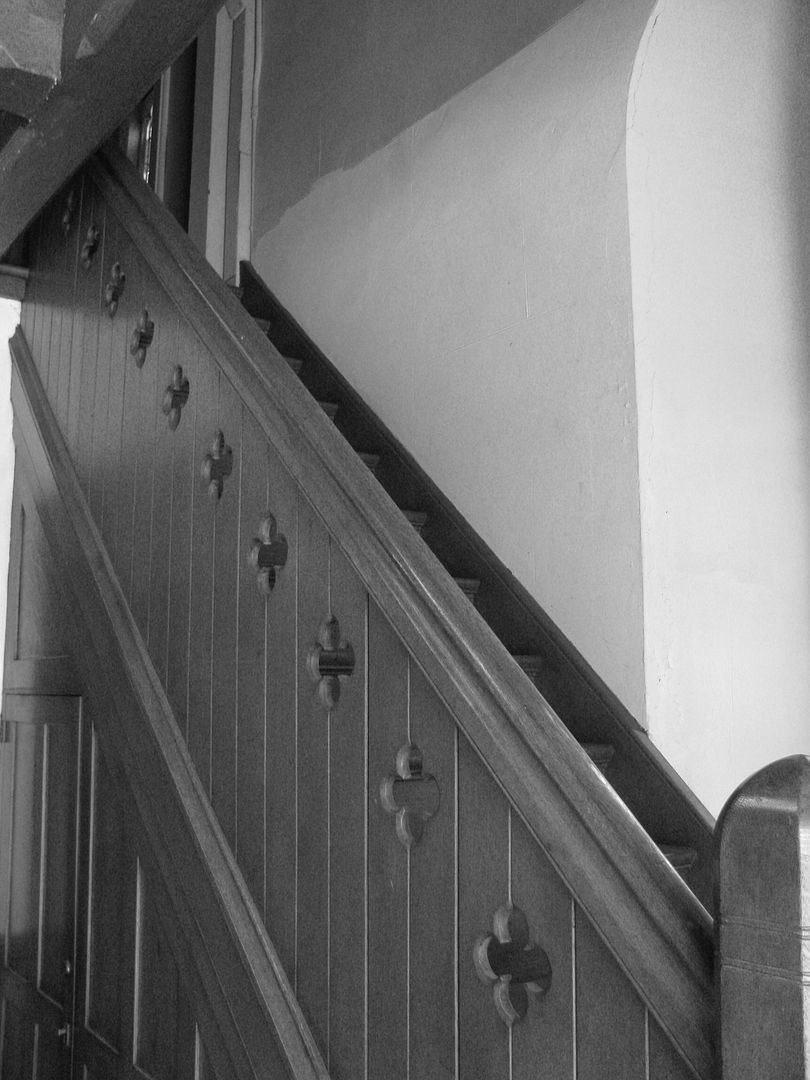 The decorative staircase up to the choir loft in St. George's Episcopal/Anglican Church, Flushing, Queens.
St. George's Church
was founded in 1702 as a mission of the Church of England by the Society for the Propagation of the Gospel in Foreign Parts. Services were conducted in the old Guard House until 1746 when the first church was built. In 1760, a certain "John Aspinwall, Gentleman" donated £600 for a steeple and bell. Mr. Aspinwall later helped establish a Latin School, which became the Academy in 1803, a precursor to the Flushing school system. A charter was granted to St. George's by King George III in 1761, the first year of his reign. Notable persons associated with St. George's include Francis Lewis, a signer of the Declaration of Independence, who was a warden of the church from 1765 to 1790, and the Rev. Samuel Seabury, rector of St. George's from 1757 to 1765, who became the first bishop of the Episcopal Church in America.
The second church was built in 1821, and included the original bell. This building was used for services until 1853, and was retained for use as a Sunday-school until about 1930 when it was replaced by the present parish house. In the churchyard are gravestones and memorials dating to the 18th and 19th centuries.
The third and present church occupies the same site as the original building and was built from 1853-54. It was designed by Frank Wills and Henry Dudley, architects associated with The New York Ecclesiological Society that had an interest in the development of Gothic Architecture as a new style (Neo-Gothic) for American churches. Local craftsmen were engaged and regional materials were used. The building includes walls of randomly laid granite rubble, fine stained glass windows. Above the entrance is a 150-foot tapered stone tower that houses a bell recast at Troy, N.Y., using the 1760 bell's metal and bearing the inscription, "The gift of John Aspinwall, Gentleman, 1760."
In 1894, the church was extended with the addition of the chancel, designed by J. King James. Charles C. Haight designed the parish house that was built from 1907-08.
In 2000, the St. George's Church, Old Parish House and Graveyard were designated by the New York City Landmarks Preservation Commission.