I thought for my first
Ruby Tuesday
post I would write about
Advent Calendars.
An
Advent calendar
is a special calendar which is used to count or celebrate the days of
Advent
in anticipation of
Christmas
. Advent is from the Latin word
adventus
meaning "coming." Some calendars are strictly religious, whereas others are secular in content.
The ones that I came across in the stores this season were very different, and much more elaborate, than the ones I used to know which were paper calendars and simpler.
Here are 3 (with lots of
RED
) I photographed at Target a few days ago. Parents put small gifts or candies in each drawer one of which is opened every day during Advent.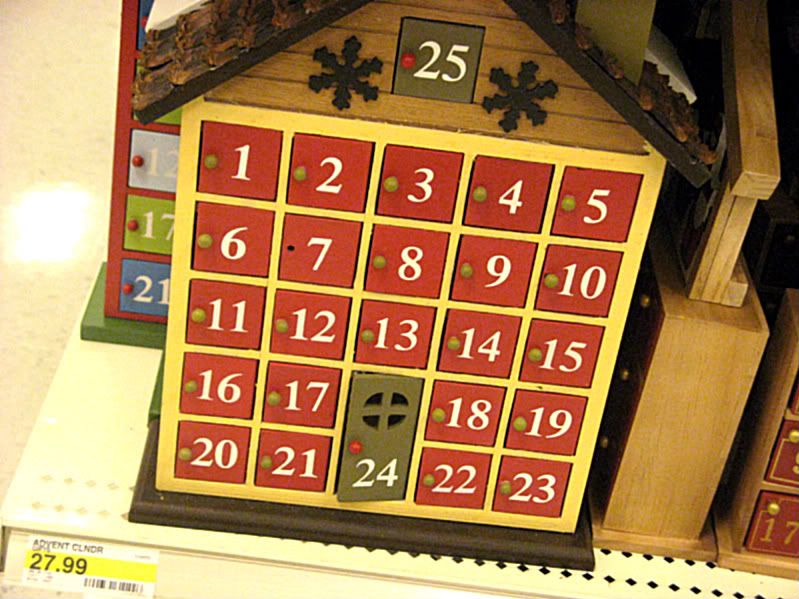 The origins of the Advent calendar come from German Lutherans who, at least as early as the beginning of the 19th century, would count down the 24 days of Advent physically. Often this meant simply drawing a chalk line on the door each day, beginning on December 1. Some families had more elaborate means of marking the days, such as lighting a new candle (perhaps the genesis of today's Advent wreath) or hanging a little religious picture on the wall each day.
The first known
Advent calendar
was handmade in 1851.
The number of doors can also increase to twenty five or twenty six to cover Christmas Day,
Hanukkah
and
Boxing Day
, and further to thirty one or thirty two to include
New Year's Eve
and
New Year's Day
. This latter act was particularly evident over December 1999, counting down to January 1, 2000.
So what will be your first
Ruby Tuesday
post during the holiday season? Remember you can post on Christmas, Hanukkah, Kwaanza, or the Winter Solstice or Winter or anything you like.
I have created a few different
Ruby Tuesday
badges for you to use, if you like, during this holiday season:
Don't forget to sign Mr. Linky and leave a comment. Try to visit your fellow participants
.
We all love visitors!