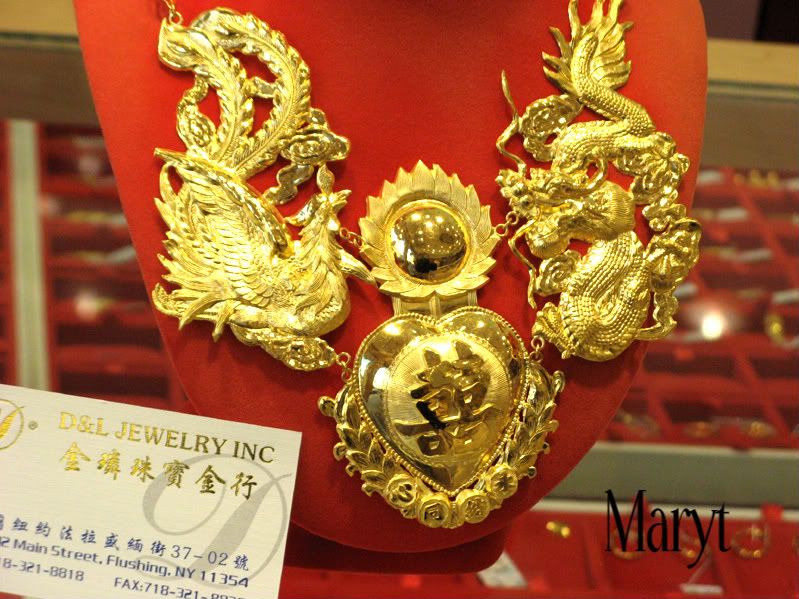 I found this piece of gold jewelry with a
dragon
in Main St. Flushing, N.Y. I was going to shoot it from outside the shop when I thought I might ask the proprietor if it would be alright to photograph it from inside where there would be no glare from the window.
They buzzed me into the shop and four ladies in blue uniforms came forward and took the necklace out of the window and set it up for me to photograph. I took a couple of shots and they were very pleased as was I.
As you might notice the
dragon
is on the right side while a
rooster
phoenix is on the left side of the necklace. The heart in the center is highly decorated as is the rest of the necklace. I wanted to ask questions about it but I didn't want to overstay my welcome. It looks like there is a sunflower over the heart.
Who would wear such a necklace? Certainly not me. Maybe a princess, a very rich princess of a very important Chinese dynasty.
Here's what it says about the
Dragon
Chinese Zodiac
:
The
dragon
enjoys a very high reputation in Chinese culture. It is the token of authority, dignity, honor, success, luck, and capacity. In ancient China, a dragon was thought to speed across the sky with divine power. Emperors entitled themselves exclusively as
'dragon'
; their thrones were called
'dragon
thrones', their clothes
'dragon
gowns'.
The phoenix has always been the symbol of rebirth or new beginnings.
~~~~~~~~~~~~~~~~~~~~~~~~~~~~~~~~~~~~~~~~~~~~~~~~~~~~~~~~~~~~~~~~~~~~~~~~~~~~~~~~~~
The Dragon and the Rooster phoenix are probably good matches. So it makes me think that a very rich Chinese lover would give his lady this necklace as an engagement or wedding gift.

UPDATE: The information graciously given by Chan Chee Khiong in the comments has made me correct my observations a bit.
Quoting Chan: "It's a necklace for wedding. The word on the 'heart' is usually used only for wedding which are two 'happiness' placed side by side.I think the dragon represents the groom and the phoenix, the bride. The pair are legendary creatures traditionally used to symbolise the masculine and the feminine and are usually shown together."
Also Elaine Ling had information for me. I should have asked people in the know before I wrote my commentary! Duh!

For other Dragons go to Melli's Prevailing Insanity
theteach

~PLEASE SCROLL DOWN A LITTLE FOR SKYWATCH FRIDAY~