It's time to award the
Beautiful Holiday Blog Award
again! Last week
Hootin'Anni
won the award and this week I 'd like to give
Melli

of
Insanity Prevails
this award.
Here's what her blog looks like:
Candy canes, stars and Santa's elves as well as a very interestingly-dressed Santa. Right at the head of her blog is a cartoon of Melli telling visitors what her mood is for that day. She is usually, amused, happy, thoughtful or gay.
Her last post shows Luz in a very pretty
RED
dress that tells us it is NOT her Christmas dress for this season. Another post presents photos of beautiful antique
holiday ornaments.
Now it's time for you to go take a look at Melli's blog. Don't worry I'll wait.


She's done such a good job as she always does. Click on this
link
and it will take you right there!
I am sending
Melli
(if she's willing to give me her home address in e-mail) the set of 5 holiday bookmarks you see below. I made them myself out of 250 lb. card stock. I will send each winner each week a set of these bookmarks.
Also I offer to the winners the "Beautiful Holiday Blog" award badge above to take and post on their sidebar.
Melli, MY E-MAIL ADDRESS IS ON MY SIDEBAR. Send me your address and I'll mail the bookmarks right away!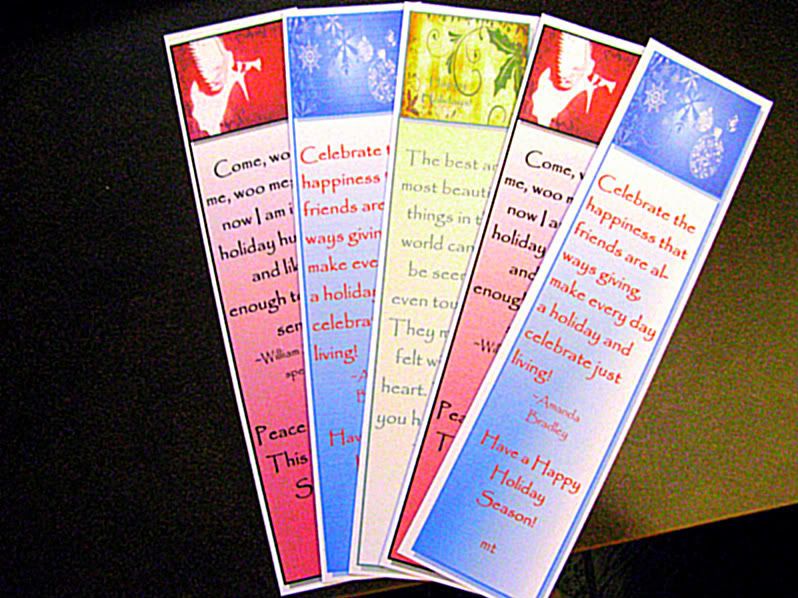 HAPPY HOLIDAYS!