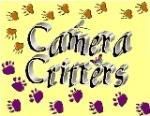 I'm not always able to do
CAMERA CRITTERS
because I don't always have critters to post about.
But today I have a critter. So I hope
Misty
doesn't mind.
We have many mourning doves where I live but they don't often stay still for me to capture. This dove was cooing and that's what made me look up to see her on the telephone wire. I never expected to capture this almost perfect shot with my Point and Shoot 7.1 mpxl Canon on zoom.
Other
Camera Critters
are
here
theteach